Chaetodon ocellatus
Butterflyfishes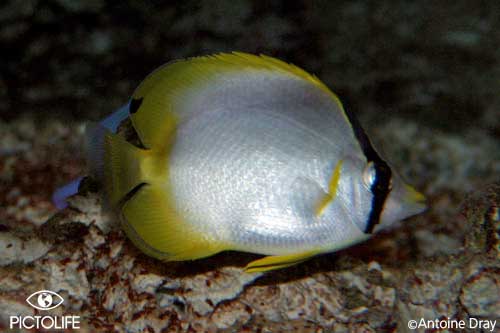 Spotfin butterflyfish
Flossenfleck-Falterfisch
Vinvlek koraalvlinder
Poisson-papillon à tache dorsale
Mariposa ocelada;Mariposa amarilla
Environment and movement of the diurnal species
The species is generally observed on the reef or near it.
The species is generally seen moving in its environment.
The species can be found between 0 and 30 Meters.
Common species.
General behaviour of the species
Species generally living in a couple
The animal is rather indifferent to the diver, though it remains on its guard
General characteristics of the species
Maximum size : 20 cm
The animal feeds mainly on small invertebrates that it gleans on the seafloor.
Diet : Coral - Algae - Zooplankton
Relationship with humans
The species can be eaten but is of no particular culinary interest
The species is exploited in the following sector(s) :
The species can be confused with other species of similar appearance!