Hippocampus histrix
Seahorse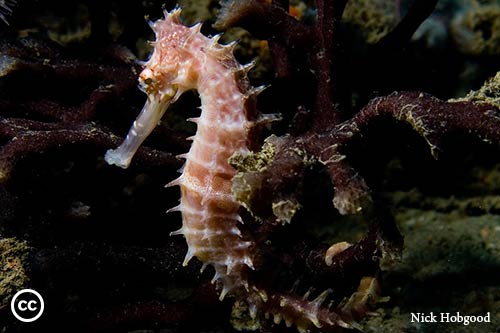 Thorny seahorse
Dorniges Seepferdchen
Hippocampe hérissé
Caballito de mar espinoso
Cavalluccio marino spinoso
Distribution
The tropical Pacific
The Red Sea
The Indian Ocean
Environment and movement of the diurnal species
The species is generally observed in a sandy/silty area.
The species is generally motionless in its environment
The species is generally found among algae or invertebrates (sponges, rods, corals...)
The species can be found between 1 and 82 Meters.
Rare species.
Hides among algae.
General behaviour of the species
Species generally solitary
Hides among algae.
The animal is rather indifferent to the diver, though it remains on its guard
General characteristics of the species
Maximum size : 17 cm
The animal feeds on plankton or small organisms.
Diet : Zooplankton
Relationship with humans
The species can be eaten but is of no particular culinary interest
The species is exploited in the following sector(s) :

- Chemistry/pharmacy
Used in the clothing, footwear or crafts industries for the manufacture of articles (jewellery, etc.)

The species is classified asVulnerable
The species can be confused with other species of similar appearance!