Syngnathus acus
Trumpets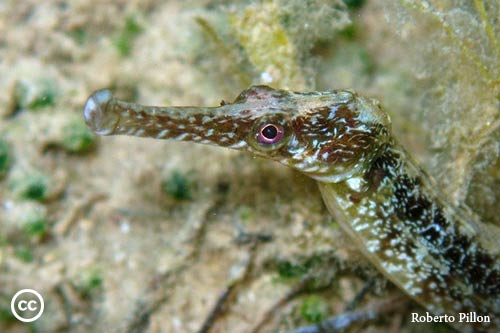 Greater pipefish
Große Seenadel
Grote zeenaald
Grand Syngnathe
Aguja de mar
Sirpuzza
Distribution
The temperate Atlantic
The Indian Ocean
The Mediterranean
Environment and movement of the diurnal species
The species is generally observed in a sandy/silty area.
The species is generally motionless in its environment
The species is generally found on or close to the seafloor.
The species can be found between 0 and 110 Meters.
Uncommon Species
Hides among algae.
General behaviour of the species
Species generally solitary
Hides among algae.
The animal is rather indifferent to the diver, though it remains on its guard
General characteristics of the species
Maximum size : 50 cm
The animal is a hunter low in the food chain.
Diet : Sea worms - - Zooplankton
The animal can show variable colouring
The animal changes colour like a chameleon
Relationship with humans
The species can be eaten but is of no particular culinary interest
The species can be confused with other species of similar appearance!