Nemateleotris magnifica
Blennies/Gobies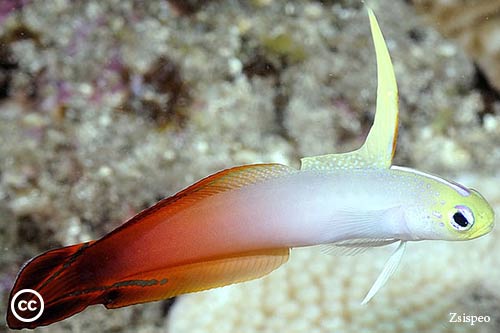 Fire goby
Pracht-Feuer-Schwertgrundel
Vuurpijlvis
Gobie de feu
Distribution
The tropical Pacific
The Indian Ocean
Environment and movement of the diurnal species
The species is generally observed on the reef or near it.
The species is generally seen moving in its environment.
The species is found in a sheltered zone
The species can be found between 3 and 70 Meters.
Common species.
General behaviour of the species
The species is territorial
Species generally living in a couple
The animal is fearful of the diver
General characteristics of the species
Maximum size : 9 cm
The animal feeds on plankton or small organisms.
Diet : Zooplankton
Relationship with humans
The species can be eaten but is of no particular culinary interest
The species is exploited in the following sector(s) :
The species can be confused with other species of similar appearance!