Solenostomus cyanopterus
Seahorse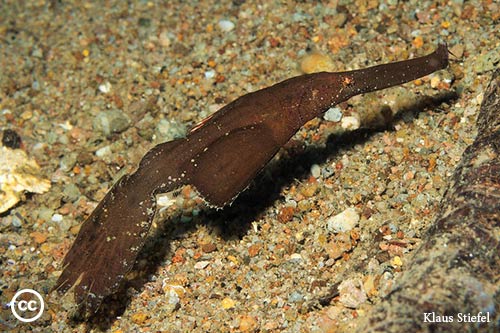 Ghost pipefish
Robuste Geisterpfeifenfisch
Zeegras spookfluitvis
Poisson-fantôme robuste
Pez pipa
Pesce fantasma robusto
Distribution
The tropical Pacific
The Red Sea
The Indian Ocean
Environment and movement of the diurnal species
The species is generally observed in seagrass among algae or phanerogams.
The species is generally seen moving in its environment.
The species can be found between 0 and 25 Meters.
Rare species.
Hides among algae.
General behaviour of the species
Species generally living in a couple
Hides among algae.
The animal is rather indifferent to the diver, though it remains on its guard
General characteristics of the species
Maximum size : 17 cm
Maximum age known : 1 year(s)
The animal feeds on plankton or small organisms.
The animal can show variable colouring
Relationship with humans
The species can be eaten but is of no particular culinary interest
The species can be confused with other species of similar appearance!