Epinephelus fuscoguttatus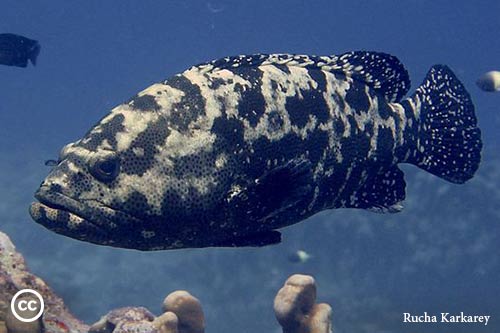 Brown-marbled grouper
Stierkopf-Zackenbarsch
Mérou marron
Distribution
The tropical Pacific
The Indian Ocean
Environment and movement of the diurnal species
The species is generally observed on the reef or near it.
The species is generally seen moving in its environment.
The species can be found between 1 and 60 Meters.
Rare species.
General behaviour of the species
The species is territorial
The species is migrating
Species generally solitary
The animal is rather indifferent to the diver, though it remains on its guard
General characteristics of the species
Maximum size : 120 cm
Maximum age known : 40 year(s)
The animal is a hunter high in the food chain.
Diet : Fishes - -
The animal is a protogynous transsexual
Relationship with humans
The species is good to eat
The species is exploited in the following sector(s) :

- Fishing or commercial aquiculture for food
-Sport or local fishing
The species can be confused with other species of similar appearance!