Cryptocentrus caeruleopunctatus
Blennies/Gobies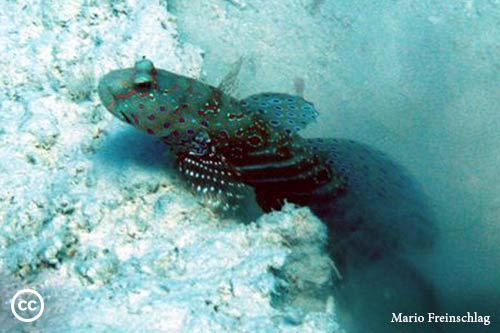 Harlequin prawn-goby
Rotmeer - Partnergrundel
Gobie arlequin
Gobio pareja de manchas rojas y azules
Ghiozzo a macchie blu
Environment and movement of the diurnal species
The species is generally observed in a sandy/silty area.
The species is generally motionless in its environment
The species is generally found at the bottom of a hole
The species can be found between 2 and 25 Meters.
Uncommon Species
Endemic species.
General behaviour of the species
The species is territorial
Species generally solitary
Lives in partnership with crustaceans
The animal is fearful of the diver
General characteristics of the species
Maximum size : 13 cm
The animal is a hunter low in the food chain.
Relationship with humans
The species can be eaten but is of no particular culinary interest
The species is exploited in the following sector(s) :
The species can be confused with other species of similar appearance!