Thalassoma lunare
Wrasses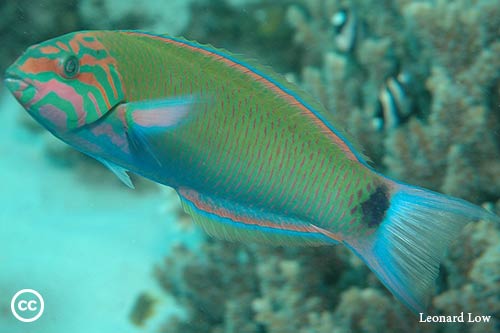 Moon wrasse
Mondsichel-Junker
Girelle-paon lyre
Lábrido luna
Labride verde e blu
Distribution
The tropical Pacific
The Red Sea
The Indian Ocean
Environment and movement of the diurnal species
The species is generally observed on the reef or near it.
The species is generally seen moving in its environment.
The species can be found between 1 and 25 Meters.
Common species.
General behaviour of the species
Species generally living in a group
The animal shows curiosity towards the diver
General characteristics of the species
Maximum size : 45 cm
Maximum age known : 10 year(s)
The animal is a hunter low in the food chain.
Diet : - Plankton
The animal is a protogynous transsexual
Relationship with humans
The species can be eaten but is of no particular culinary interest
The species is exploited in the following sector(s) :

- Aquarium enthusiasts.
- Fishing or commercial aquiculture for food
The species can be confused with other species of similar appearance!