Epinephelus adscensionis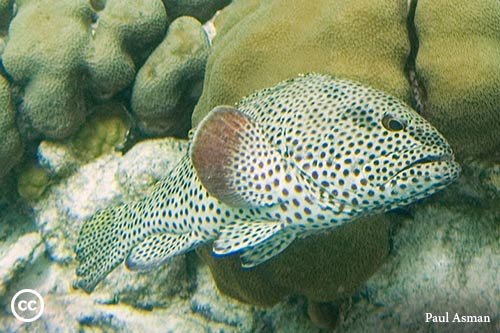 Rock hind
Felsen-Zackenbarsch
Katvis; Gestippelde zeebaars
Mérou tacheté, Mérou oualioua
Mero cabrilla
Environment and movement of the diurnal species
The species is generally observed on the reef or near it.
The species is generally seen moving in its environment.
The species can be found between 1 and 50 Meters.
Common species.
General behaviour of the species
Species generally solitary
The animal is fearful of the diver
General characteristics of the species
Maximum size : 60 cm
Maximum age known : 12 year(s)
The animal is a hunter high in the food chain.
The animal is a protogynous transsexual
Relationship with humans
The species is in great demand and highly appreciated
The species is exploited in the following sector(s) :

- Fishing or commercial aquiculture for food
-Sport or local fishing
The species can be confused with other species of similar appearance!