Thorogobius ephippiatus
Blennies/Gobies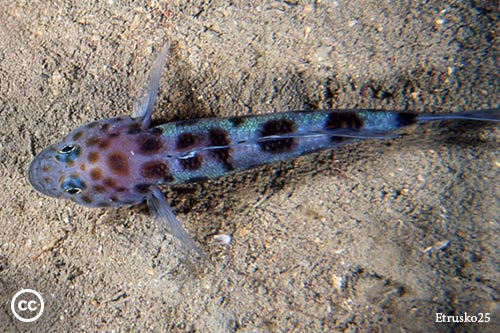 Leopard-spotted goby
Leopardengrundel
Luipaardgrondel
Gobie léopard
Gobio leopardo
Ghiozzo leopardo
Distribution
The temperate Atlantic
The Mediterranean
Environment and movement of the diurnal species
The species is generally observed on the reef or near it.
The species is generally motionless in its environment
The species is found in a sheltered zone
The species can be found between 5 and 40 Meters.
Common species.
General behaviour of the species
Species generally solitary
The animal is rather indifferent to the diver, though it remains on its guard
General characteristics of the species
Maximum size : 13 cm
Maximum age known : 9 year(s)
The animal is a hunter low in the food chain.
Diet : - Sea worms - Algae
Relationship with humans
The species can be eaten but is of no particular culinary interest
The species can be confused with other species of similar appearance!