Symphodus melops
Wrasses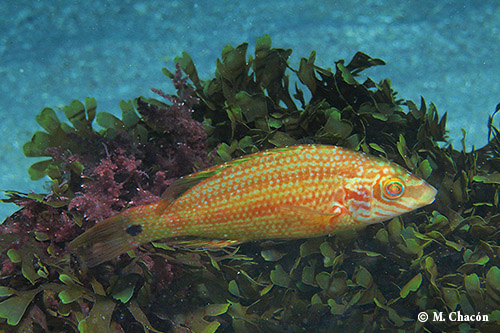 Corkwing wrasse
Goldmaid
Zwartooglipvis
Crénilabre commun
Porredana
Tordo occhionero
Distribution
The temperate Atlantic
The Mediterranean
Environment and movement of the diurnal species
The species is generally observed on the reef or near it.
The species is generally seen moving in its environment.
The species can be found between 1 and 30 Meters.
Common species.
General behaviour of the species
Species generally solitary
The animal is fearful of the diver
General characteristics of the species
Maximum size : 28 cm
Maximum age known : 9 year(s)
The animal is a hunter low in the food chain.
The animal can show variable colouring
Relationship with humans
The species can be eaten but is of no particular culinary interest
The species can be confused with other species of similar appearance!