Gadus morhua
Various fishes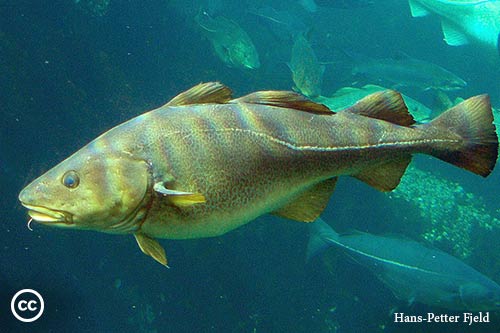 Atlantic Cod
Dorsch
Kabeljauw
Morue franche, Cabillaud
bacalao del Atlántico
merluzzo bianco
Environment and movement of the diurnal species
The species is generally observed in a sandy/silty area.
The species is generally seen moving in its environment.
The species is generally found on or close to the seafloor.
The species can be found between 1 and 600 Meters.
Very common species.
General behaviour of the species
The species is migrating
Lives in large groups
The animal is fearful of the diver
General characteristics of the species
Maximum size : 200 cm
Maximum age known : 25 year(s)
The animal is a hunter low in the food chain.
Diet : Fishes - -
The animal can show variable colouring
Relationship with humans
The species is good to eat
The species is exploited in the following sector(s) :

- Fishing or commercial aquiculture for food
-Sport or local fishing

The species is classified asVulnerable
The species can be confused with other species of similar appearance!