Sardina pilchardus
Shoal builders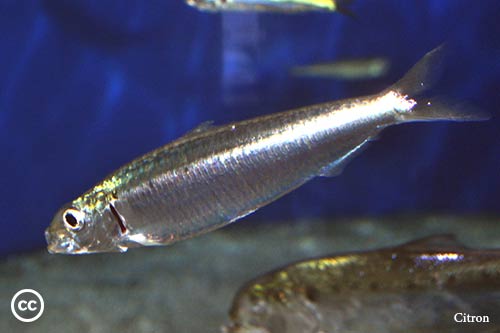 European pilchard
Sardine
Sardien
Sardine commune
Sardina
Sardina
Distribution
The tropical Atlantic
The temperate Atlantic
The Mediterranean
Environment and movement of the diurnal species
The species is generally found in the open sea.
The species is generally seen moving in its environment.
The species can be found between 5 and 100 Meters.
Very common species.
General behaviour of the species
Lives in large groups
The animal is fearful of the diver
General characteristics of the species
Maximum size : 25 cm
Maximum age known : 15 year(s)
The animal feeds on plankton or small organisms.
Relationship with humans
The species is good to eat
The species is exploited in the following sector(s) :

- Fishing or commercial aquiculture for food
The species can be confused with other species of similar appearance!