Mullus surmuletus
Red Mullets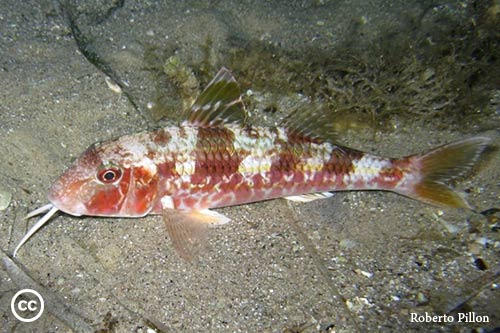 Striped red mullet
Gestreifte Meerbarbe
Koning van de poon
Rouget de roche
Salmonete de roca
Triglia di scoglio
Distribution
The temperate Atlantic
The Mediterranean
Environment and movement of the diurnal species
The species is generally observed in a sandy/silty area.
The species is generally seen moving in its environment.
The species is generally found on or close to the seafloor.
The species can be found between 3 and 500 Meters.
Common species.
General behaviour of the species
Species generally living in a group
The animal is fearful of the diver
General characteristics of the species
Maximum size : 40 cm
Maximum age known : 11 year(s)
The animal is a hunter low in the food chain.
Diet : Shrimps - Sea worms - Mollusks
Relationship with humans
The species is in great demand and highly appreciated
The species is exploited in the following sector(s) :

- Fishing or commercial aquiculture for food
-Sport or local fishing
The species can be confused with other species of similar appearance!