Neoniphon marianus
Squirrelfishes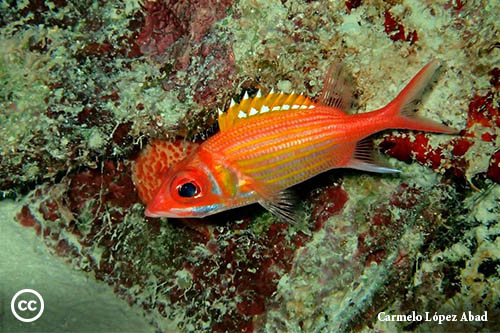 Longjaw squirrelfish
Gelber Husar
Oranje eekhoornvis
Poisson-écureuil à longues mâchoires
Candil mariano
Environment and movement of the diurnal species
The species is generally observed on the reef or near it.
The species is generally motionless in its environment
The species is found in a sheltered zone
The species can be found between 1 and 70 Meters.
Uncommon Species
Environment and movement of the nocturnal species
The species is generally observed on the reef or near it.
The species is generally seen moving in its environment.
General behaviour of the species
Species generally living in a group
The animal is fearful of the diver
General characteristics of the species
Maximum size : 18 cm
The animal is a hunter low in the food chain.
Relationship with humans
The species is good to eat
The species can be confused with other species of similar appearance!