Antennarius multiocellatus
Scorpion fishes and others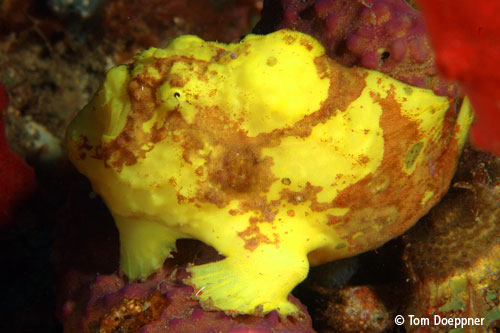 Longlure frogfish
Augenfleck-Anglerfisch
Oogvlek hengelaarsvis
Poisson-pêcheur
Sapo;pescador
Environment and movement of the diurnal species
The species is generally observed on the reef or near it.
The species is generally motionless in its environment
The species is generally found among algae or invertebrates (sponges, rods, corals...)
The species can be found between 0 and 60 Meters.
Uncommon Species
Imitates a rock or a coral.
General behaviour of the species
Species generally solitary
Imitates a rock or a coral.
The animal is rather indifferent to the diver, though it remains on its guard
General characteristics of the species
Maximum size : 20 cm
The animal is a hunter low in the food chain.
Diet : Fishes -
The animal can show variable colouring
The animal changes colour like a chameleon
Relationship with humans
The species can be eaten but is of no particular culinary interest
The species is exploited in the following sector(s) :
The species can be confused with other species of similar appearance!